J.B.&A. Maxfield, Milwaukee, WI 1854 Marked 4 Gallon Butter Churn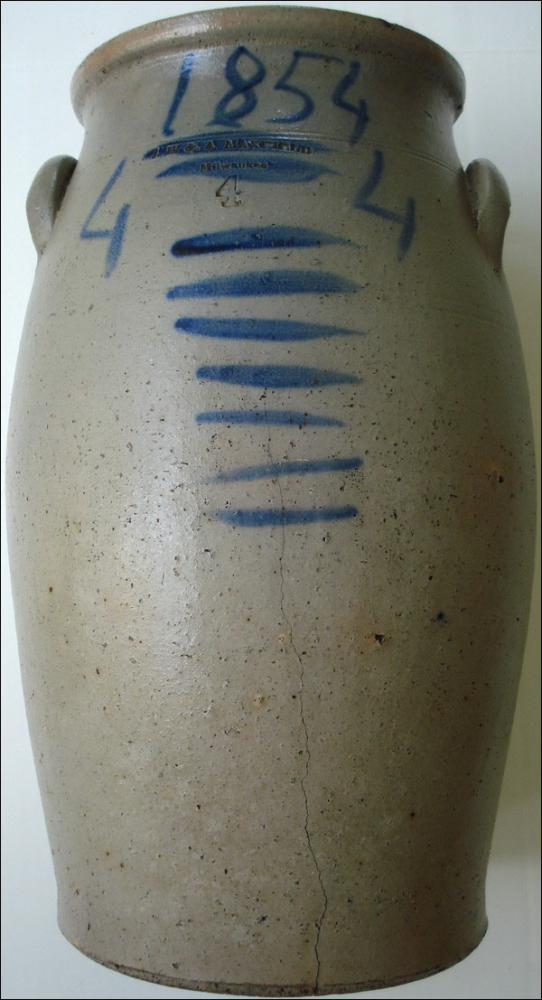 So you have been wondering why so few of the tens even hundreds of thousands of gallons of antique Milwaukee stoneware produced at the Maxfield Milwaukee pottery works show up around Milwaukee? Dave in South East Nebraska says of this find, "I found this down in Kansas many years ago. I'm from south east Nebraska and mainly collect redwing salt glazed but this was always one of my favorites even though it does have a crack running up the front of it. I've seen other Maxfield pieces online, but never one dated, so I was hoping this might be a rare one since it was the brothers first year in production. Any info you can give me would be great! Thanks, Dave"
Well Dave I can tell you this will increase tourism to Kansas from Wisconsin in the future. What a great piece of early American Stoneware. Debossed with the Maxfield brothers stamp, "J.B. & A. MAXFIELD MILWAUKEE" More impressive than the stamp is the cobalt glaze. How many Wisconsin pieces have the date? What a beautiful piece. For now it resides far from home but maybe someday it will come back. I for one am just happy to see it.