Leonard J. Farwell
January 5, 1819 - April 10, 1889
Complied by Jon Steiner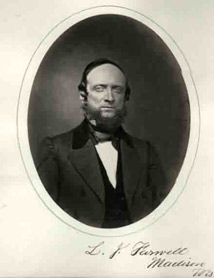 Leonard J. Farwell was born in Watertown, New York in 1819, and was orphaned by age 11. After attending school for the next three years, he went to work in a local store. Preferring a different type of work, Leonard became a tinsmith in a local shop, where he also learned much about operating a business.
In 1838, he moved to Lockport, Illinois, opening his own hardware store and tin shop. Business was good, and two years later, he moved to Milwaukie (Milwaukee) in the Territory of Wisconsin.
In Milwaukee he also started another successful hardware business that lasted several years located at 293 East Water Street and advertised himself as the largest hardware house in the west. He sold a general line of hardware, tools, glass, crockery, stoves, & etc. There is no identification on the crockery as to who manufactured stoneware for Farwell it is possible that it was made by Isaac Brazelton who was producing stoneware in Milwaukee starting in 1844.
There are few artifacts to be found from this business venture. One wood working plane is known to be marked for this firm and a few pieces of stoneware are known as pictured below: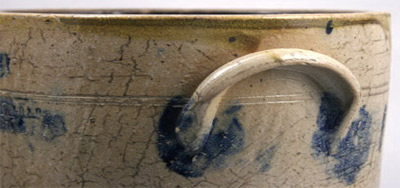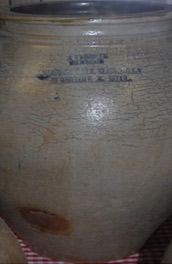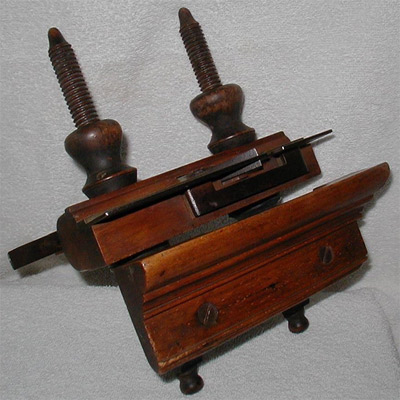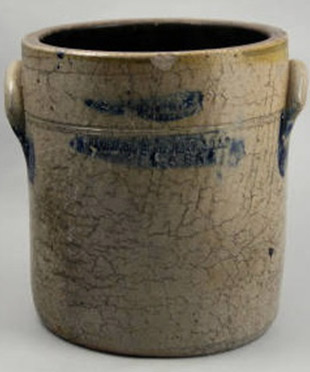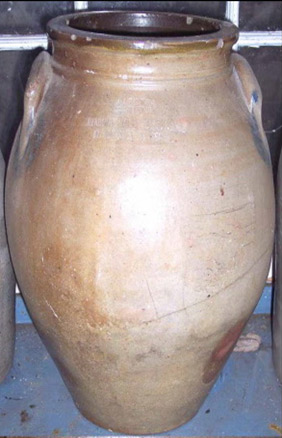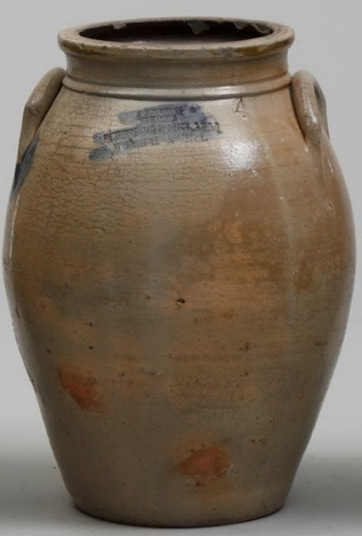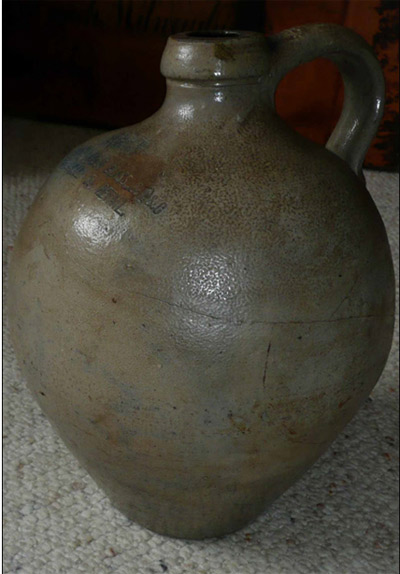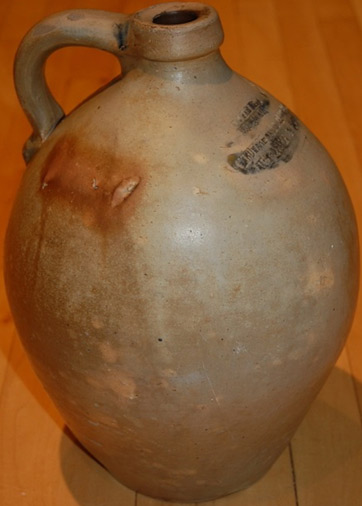 With profits from his prosperous hardware business Farwell invested in large amounts real estate in Madison, Wisconsin 1847-1848. Shortly after he sold his hardware business in 1847 (sold to K. Edgerton) he took an extended trip to Africa and when he returned, Wisconsin had become a state and Madison became the capital. Shortly after his return he moved to Madison.
Going through great efforts and lots of money, he built sawmills, gristmills, roads, and other structures, securing his place in the city's and Wisconsin's history. He even introduced white fish to the Madison lakes in 1850. Farwell's story of rising from poverty to great financial wealth soon attracted political party leaders, who urged him to run for governor.
His opponents seized on the very same story to prove he was hardly worthy of the position. Attempting to diminish his accomplishments, they referred to Farwell derisively as a "mechanic." High-profile editorials wondered, "... how many are there of that class... who pretended they had the requisite talents, experience, or qualifications for such an office?".
Editorials in support of the political newcomer ripped into the term "that class," countering with dripping sarcasm: "Who is Mr. Farwell? Only a mechanic, a merchant, and businessman. Never held office... or wriggled like a crawling worm in the slime and filth of the party sewers to get votes!"
The scathing rebuke continued, portraying Farwell as "a mechanic ... by the sweat of his brow and the labor of his own hands ... has risen from poverty to comparative wealth, and for enterprise and business capacity stands second to no man in the state." They called for electing a self-made man who would pursue the state's interests, "... instead of being the mere tool of the party." By a narrow margin, Leonard Farwell, the man from "that class," was elected Wisconsin's second governor in 1852, just four years after the territory had attained statehood.
His inauguration came on Leonard's 33rd birthday. The state's new leader (second governor in state's history) took a common-sense approach to the job, acting against monopolistic banks, and foiling insurance companies who were indulging in financial practices that risked catastrophe for many. He also signed a bill granting land "to aid in the education of deaf, dumb, blind, and insane persons in the state."
Elected Governor of Wisconsin as a member of the Whig Party, Farwell served as governor from 1852 to 1854. On July 12, 1853, in one of his more notable actions as governor, he signed a law that abolished the death penalty in Wisconsin and replaced it with a penalty of life imprisonment. This action made Wisconsin the first state to abolish the gallows.
His legacy also included public works―among other things, helping to organize the State Historical Society, the public school system, and the state university.
In 1857 Farwell ran for alderman in Madison but lost by a close margin. Also that year, Farwell lost his land holdings due to the effects of the Panic of 1857. He served in the Wisconsin State Assembly in 1860.
A financial crisis, the Panic of 1857, drained his fortune, but Farwell managed to recover. After working in a soldier-relief program during the early years of the Civil War, he was appointed by Abraham Lincoln as Assistant Examiner in the Patent Office. He journeyed to Washington in a move that would have historic ramifications.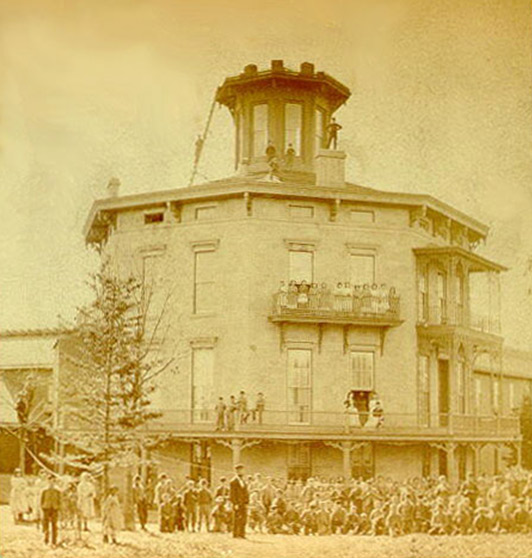 The Farwell Mansion built 1857 later used as a Orphan's Home demolished in the 1890's
From 1863 to 1870, Farwell worked in Washington, D.C. as principal examiner in the U.S. Patent Office. He was present at Ford's Theatre the day President Abraham Lincoln was assassinated in 1865, and was the first person to inform then-Vice President Andrew Johnson of the assassination.
After seven years in Washington, Farwell moved to Chicago and started a patent agency, but he fell victim to the Great Chicago Fire of 1871.
Leonard later relocated to Missouri, where he regained financial prosperity through banking and real estate. Grant City in northwestern Missouri became his home, where continued success once again led politicians to his door, urging him to seek the governorship of Missouri in 1880. Farwell declined, preferring to pursue his interests in the world of business.
Farwell died in Grant City, Missouri, on April 11, 1889. He is interred at Grant City Cemetery, Grant City, Missouri.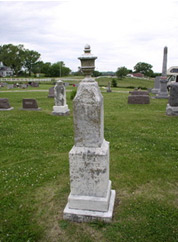 As a side note there was a great lakes steamer named after him the L.J. Farwell Schooner was built in 1856 in Ohio with a home port of Buffalo, New York for most of it's life and during it's lifetime it had numerous collisions and sank a couple times and was recovered and rebuilt and continued on until 1901 when it disappeared from the great lakes ship registry. It was known to transport lumber and iron ore. I have found no evidence that this schooner was related to him in any way other than in name.
Information found in: Pioneer History of Milwaukee – James Buck
www.wikipedia.org
www.adirondackalmanack.com
www.thirdlakeridge.org
content.wisconsinhistory.org
www.mrbottles.com
maritimehistoryofthegreatlakes.ca